Your initiative, our support
---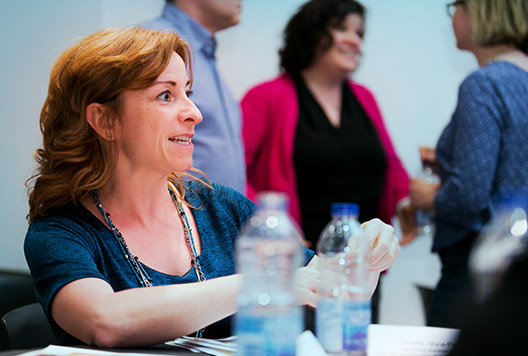 Funding policy
Are you trying to obtain funding for an initiative that mobilizes actors in your community? Does your project tie in with our objective of preventing poverty and creating conditions to help the children and youth in your area (or throughout Québec) to develop their full potential?
Find out if we could be one of the partners in your endeavour and the projects you are taking on by learning more about the types of support we offer and the quality of relationships we choose to foster.

Supporting partners who are making a difference by working together
To fulfill our mission, our goal is to provide long-term support for our partners' capacity for action—and that of their collaborators—in order to create sustainable conditions for preventing poverty and developing the full potential of all young people living in Québec.
The Chagnon Foundation aspires to support partners who:
are joining forces and getting citizens involved in working together on initiatives linked to developing young people's full potential
focus their attention on disadvantaged families and neighbourhoods
are interested in the overall development of all children and youth from conception to adulthood
promote the adoption of practices or public policies aimed at creating sustainable conditions that reduce obstacles and iniquity
are developing a common vision, offering the resources needed to realize that vision or are interested in accessing resources
recognize that the Chagnon Foundation will provide only a relative portion of their funding for a fixed period so that others can also benefit from its support
are committed to systematizing and sharing lessons learned.
Based on these principles and the experience gained during the Foundation's early years of activity, we have chosen to provide support for communities, networks and resources.
Communities in which partners are mobilizing for change
We wish to support different community configurations, adapting to their needs and sense of belonging, as well as to partners' leadership and dynamics. Whether it's a regional coalition or a stakeholders' table in an urban neighbourhood or MRC (regional county municipality), a partnership coalition in a community should be:
working in disadvantaged areas or communities that have a high concentration of disadvantaged families
mobilizing leaders and actors, including citizens and representatives from many different sectors—community, municipal, education, early childhood, public services, social, economic, cooperative, etc.
working together to have an impact on issues related to social and community development, to poverty and reducing inequality, or to the overall development of children, young people and their families.
Examples of communities we are currently supporting:
Several Montreal neighbourhoods through the Collective Impact Project (CIP), the result of a collaboration between nine different foundations, the Direction de santé publique, the City of Montreal and Centraide of Greater Montreal
the Charlevoix region, which includes two MRCs
Community, associated and professional networks
The networks we support are made up of actors, citizens, stakeholders or decision-makers who are innovating, sharing knowledge and practices, and participating the dialogue on public policy. These networks work in various sectors, including early childhood, the community, social development, philanthropy, municipalities, the economy and education.
Some of the networks we support:
Resources, sources of information and awareness
To improve the capacity for action of actors working in communities and networks (whether they are supported by the Foundation or not), we offer our support to organizations and projects that offer resources (in the form of data, knowledge, lessons learned, tools, events, etc.). We also support resources aimed at informing and raising the awareness of the general public and decision-makers about different topics related to the prevention of poverty and the development of young people's full potential.
Among the resources we support:
What we
do not
support
In order to offer an approach that complements the efforts of other philanthropic organizations without replacing the role of the government, the Foundation does not provide philanthropic funding for the following: :
Initiatives that:

target issues outside of Québec
are not related to developing the full potential of children and youth
fail to address barriers that lead to inequities or the conditions that reduce them
offer direct services for individuals as opposed to proposing a global response to a need in the community
are submitted by a single organization, i.e., that are not the result of a joint effort or partnership
seek to implement or reproduce a program or solution on the ground based on a top-down approach

Base or recurring funding for an organization or project
Fundraising campaigns (regular or emergency)
Grants and bursaries (education bursaires, for example)
Purchase of equipment, food, school supplies, etc.
Partisan political activities
Non-profit organization projects
Individual projects
Do you think we could be one of your partners?
There are a few steps you need to follow to start the ball rolling.
Start here
Frequently-asked questions
Why does the Chagnon Foundation insist that various partners working in the same community or network join forces to submit a joint application for funding?

The prevention of poverty and the development of young people's full potential are complex issues that require the involvement of a large number of actors in an intersectoral approach. By pooling their knowledge and skills and deploying different types of actions, these actors demonstrate shared leadership, acting together to have an impact on collective measures that they could never achieve on their own.

It is for that reason that we prefer not to support one-off, short-term projects proposed by a single organization.

What do you mean by "supporting the capacity for action"?

Our support for developing the capacity for action is aimed at the following types of projects:

Initiatives that actors in a community or network would like to undertake (or have already undertaken) to mobilize and agree on a shared vision for improving living conditions in their community and encouraging the development of their young people's full potential. Such initiatives do not have to be focused exclusively on developing potential, however, or limited to children and youth from conception to adulthood. All partnerships do not necessarily have to be in place and ready to go. What we need to see is a desire to work on creating sustainable conditions, focusing on collaborative effort, and mobilizing legitimate, recognized actors in the community (including actors in less traditional sectors), and including citizen participation.
Initiatives more directly linked to the prevention of poverty and the development of young people's full potential included in the shared vision.
Providing access to networks or resources (tools, data, expertise, support, opportunities for dialogue and citizen participation) that further skills development, innovation and achieving the vision (such as changing practices, collaborative efforts, communication and influence/advocacy, innovation, succession, lessons learned and evaluation, etc.).

How does the Chagnon Foundation plan to evaluate the outcomes of its support and its partners' initiatives?

We do not believe that our financial contribution alone can have a significant impact on such complex objectives as preventing poverty, reducing inequity or furthering the development of young people's full potential. The initiatives we support are therefore not required to demonstrate an impact on this type of indicator.

What we are interested in knowing is the extent to which our support helps organizations and coalitions to be better equipped, mobilized, engaged, skilled and effective in innovating, implementing their initiatives and reaching their objectives.

We place more value on the lessons learned from experience—including failure—than providing accounts for specific results simply to justify our contribution.