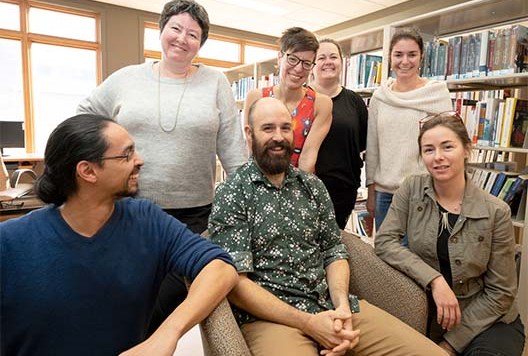 Communities
The COSMOSS* initiative in the Bas-St-Laurent region
* COSMOSS = Communauté ouverte et solidaire pour un monde outillé, scolarisé et en santé (An open, supportive community promoting a society that is well-equipped, educated and healthy)
Although the Bas-Saint-Laurent region is known for the quality of its environment, it faces some serious challenges in the areas of devitalization and poverty. The region's situation is far from homogeneous: its eight MRCs (municipalités régionales de comté or regional county municipalities) are all very different from one another. Municipalities bordering the St. Lawrence reap much more benefit from tourism, while some of the interior municipalities, traditionally more rural, are very devitalized. The region is also experiencing a demographic decline that will only become worse as the population ages.
A mobilization approach aimed at developing the full potential of all children and youth living in the Bas-St-Laurent region 
The Bas-St-Laurent possesses a strong social capital and is known for its culture of mutual aid and community spirit. It is in this culture that COSMOSS found its roots in the region.
COSMOSS is a local and regional mobilization approach that now unites close to 150 partner organizations (municipal councillors, communities and institutions) from various sectors in the eight MRCs: health and social services, education, employment, early childhood and the municipal and community sectors.
The goal of the initiative is to develop the full potential of all the region's children and young people, from conception to age 30, by creating the necessary conditions to give them all an equal chance for success in life.
Its four primary objectives are to:
foster early childhood development (children between 0 and 5) and a successful start in school
promote healthy lifestyle habits
encourage children and youth to stay in school in order to assure their educational success
promote sustainable social and professional integration.
A learning organization that is constantly adapting
Since 2015, COSMOSS has been working with its partners and local stakeholders to compile information on its various projects, constantly adjusting its approach in accordance with its findings. Since all strategies implemented are documented, the outcomes of initiatives can be monitored to assess their ability to bring about desired changes.
(in French)
---
A few COSMOSS projects
Preparatory camps for children entering kindergarten
The "Bonjour l'école" camps (Say hello to school!) give pre-schoolers an immersive opportunity to find out what school is like during the summer, before classes start in September. This initiative gives children who didn't attend daycare the tools they need to start kindergarten on the right foot.
STELLA - Stimulating language development while having fun!
STELLA (STimulons Ensemble Le Langage en s'Amusant) is a pedagogical toolkit for educators and other professionals working with children under 5, containing simple material for stimulating young children's language development before they start kindergarten.
---
Our role as a foundation
COSMOSS and the Foundation share:
the belief that the best way to prevent poverty is to concentrate on the development of children, youth and their families, and
the conviction that community mobilization is a powerful driver to achieve that goal.
The Foundation encourages the use of rigorous practices that allow progress in achieving desired changes to be monitored. Such practices have been transplanted throughout the region for application to strategic planning, outcome monitoring or evaluation.
---
To learn more about the initiative
A few key facts
Percentage of population 30 years of age and under 30%
Number of inhabitants 200 000
Municipalities 114
Disposable income/inhabitant $24,465