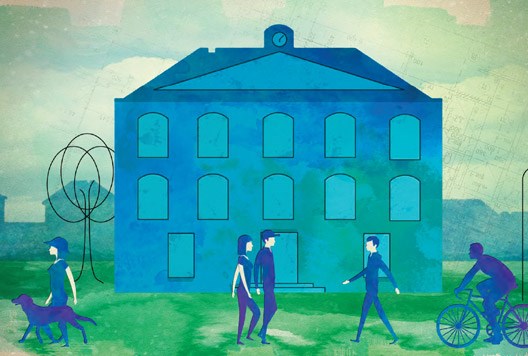 Resources
Communagir
The Foundation firmly believes in local community mobilization, and has made it one of the linchpins of its strategy to achieve its mission.
It believes that the individuals-organizations, institutions, practitioners, families and parents-who are present in the daily lives of children and young people are in the best position to develop new solutions and establish them firmly in the community.
Mobilizing local communities is a strategy for change that actively encourages community development and strengthens their ability to take action. It requires actors from all sectors (community, public, private, elected and citizens) to rally around a cause that can be quite broad (social development of the community, integrated territorial development, etc.) or very focused (early childhood development, fight against poverty, etc.).
The complex nature of major development issues (be they economic, social or environmental) demands a global perspective and the ability to set up solutions that are innovative, effective and sustainable.
For this reason, the Foundation has decided to offer its support to Communagir, whose mission is to help Quebec communities develop their capacity to bring about the changes they believe to be necessary for their collective development
---
Communagir offers:
specialized, customized skills development services designed with and for individuals and groups who want to ensure the success of a development initiative in their community
a wide range of accessible, collaborative activities aimed at promoting practices, identifying issues and exploring concrete solutions.
---
The example of Haute-Gaspésie
The past 40 years have seen the spiralling decline of the Quebec regional county municipality (RCM) of Haute-Gaspésie: significant decrease in population, growing poverty, low levels of education, etc. When partners in the area decided to band together in order to take charge of revitalizing their territory, they called on Communagir for support. The organization supplied professional coaching, facilitated orientation days, and provided the services of a steering committee to head up an integrated social development effort. Thanks to Communagir, the people involved in the project obtained the tools they needed to work toward improving the quality of life in their area. The decisive experience of Haute-Gaspésie has been the inspiration for other RCMs in the same region who are interested in launching similar initiatives.
---
Feedback on services provided by Communagir:
"You clearly demonstrated us the approach's potential to take us beyond the 'good idea on paper' stage. Thanks!"
"This way of working enabled partners to identify their common objectives and strategies in order to extract the vision of a concerted group action."
"This is our kind of planning."