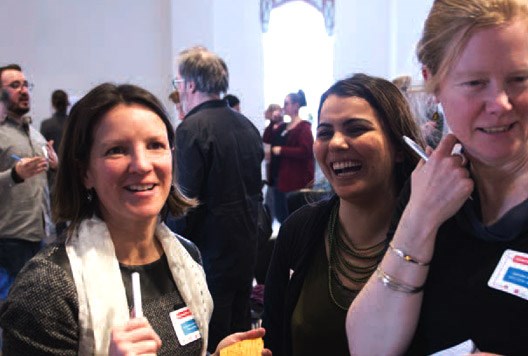 Communities
The Collective Impact Project (CIP) of Montreal
Supported by the Foundation since 2015
Because of its metropolis status, Montreal's situation is special and unique in Quebec. Although the density of its population, the presence of many cultural communities and its diversity are what make the city so exciting, they also create complex issues and specific challenges. Certain data are cause for concern, presenting challenges in the areas of child development, educational success, the place of families, poverty and social inequality, newcomers and First Nations people.
Experimenting, innovating and finding new ways to reduce poverty
The Collective Impact Project (CIP) is a new form of support for community development that helps Montreal neighbourhoods make proposals, experiment, innovate and find new ways to reduce poverty. It aims to increase the impact of collective action and achieve measurable, significant outcomes. The partners in the Collective Impact Project share the conviction that the best results are obtained by working together at the local level.
Nine foundations have committed to investing $23 million in 17 neighbourhoods on the Island of Montreal as part of the Collective Impact Project:
J.W. McConnell Family Foundation
Pathy Family Foundation
Silver Dollar Foundation
Foundation of Greater Montreal
Trottier Family Foundation
Lucie and André Chagnon Foundation
Marcelle and Jean Coutu Foundation
Mirella & Lino Saputo Foundation
Molson Foundation
Three other organizations have also joined this partnership:
Coalition montréalaise des tables de quartier (CTMQ) – Montreal neighbourhood round tables coalition
Direction régionale de la santé publique de Montréal (Montreal regional public health authority)
City of Montreal
Since the beginning of the project, participating neighbourhoods have been called on to identify their targets for change, focus strategies, as well as the key performance indicators for their neighbourhood action plan, based on:
People (youth graduation rate, parental participation in schools, development of citizen leadership)
Processes (stakeholder involvement, citizen participation, and collaboration dynamics)
Living conditions (food security, social housing, and criminality)
The system (collaboration between schools and the community, implementation of municipal policies, improvements to the public transit network).
Tailored support
The CIP takes into account the reality of each participating neighbourhood, providing tailored support so that each one can:
become more intensely engaged in its social development in close alignment with its neighbourhood action plan (whether it has developed this plan or is just starting to develop it)
develop or reinforce an approach that gets all local stakeholder networks involved
conduct an evaluation on how its collective process reinforces capacities, encourages collective learning, and continuously improves practices
participate in knowledge transfer and sharing activities
receive financial support and other forms of support for the creation of a neighbourhood action plan.
Photo credit: ©mocaphoto
---
Examples of projects that have been set up in different neighbourhoods
Learning Citizenship (Ahuntsic)
The Learning Citizenship project encourages residents to speak out and defend their interests as citizens on the issues of food security and the development of collective facilities.
On the road to school success (St-Léonard)
The objective of this pilot project is to improve the social and community fabric for immigrant parents so that they can play an active role in their children's educational success.
---
To learn more about the initiative
A few key facts
Engaged neighbourhoods 17
Foundations involved 9
Strategic partners 3