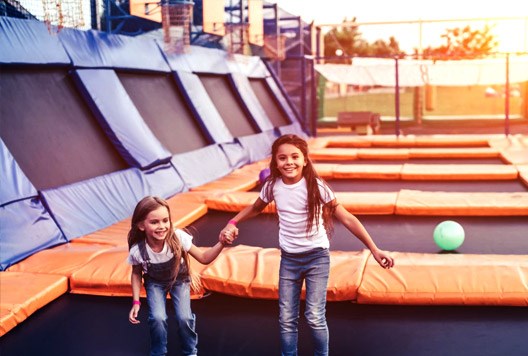 Communities - Completed initiatives
Québec en Forme
Supported by the Foundation from 2002 to 2019
Québec en Forme (healthy and fit in Quebec) provides support and guidance for thousands of partners involved in promoting healthy living habits for children and youth across Quebec—at the local, regional and provincial levels.
Helping young Quebecers to adopt and maintain healthy eating habits and a physically active lifestyle
Right from the beginning of its mandate, Québec en Forme worked to mobilize individuals and Quebec society as a whole to adopt and maintain a healthy diet and physically active lifestyle, two life habits that have been universally recognized to be essential to the overall development and educational success of young Quebecers.
To fulfill this mission, Québec en forme focused on three key areas:
Helping to mobilize communities: the combined efforts of young people, parents, teachers, practitioners, stakeholders, school principals, mayors and health specialists can encourage communities to take action to get children and youth moving and eating better
Changing environments by creating conditions that will encourage young people to make healthy choices
Transforming social norms to encourage children and youth to be more active and eat better.
---
A multitude of initiatives supported at the local, regional and provincial levels
During its years of operation, Québec en Forme created a network of 5,000 partners:
At the local level, 162 local partnership coalitions as well as 30 First Nations communities which benefited from the organization's adapted approach
Seventeen regional intersectoral round tables on healthy lifestyles were involved in the initiative
Across the province: 40 NGOs, four government department networks and two provincial round tables (on physically active lifestyles and healthy eating habits).
Thanks to Québec en forme's mobilization efforts, healthy life choices are now considered to be an important aspect of many public programs and policies (such as the Quebec government's preventive health policy, for example).
A few examples of projects supported by Québec en forme:
100°
100° brings together a community of people who are engaged in encouraging children and youth to adopt healthy lifestyle habits. 100° is a space—actual and virtual—for the sharing and dialogue processes needed to get new ideas off the ground and projects up and running.
Wixx
Wixx is a social campaign dedicated to promoting physically active leisure and transportation choices for children between the ages of 5 and 13.
---
A partnership between the Quebec government and the Lucie and André Chagnon Foundation
In 2002, an initial partnership agreement between the government of Quebec and the Foundation led to the official creation of the non-profit organization Québec en forme, whose primary mission was to encourage young Quebecers to be more physically active. Then, in June 2017, a new partnership agreement was signed, under which $480 million was jointly granted to the organization for a period of 10 years (from 2007 to 2017). During that time, which was subsequently extended until 2019, Québec en forme worked to encourage young Quebecers to adopt and maintain healthy eating habits and a physically active lifestyle.
To learn more about the initiative
A few key facts
Mobilized individuals and organizations More than 5000
Local partnership coalitions supported 162
Regional intersectoral round tables 17
First Nations communities which benefited from an adapted approach 30