7 June 2019
Announcement of the 1,000th Community Housing Unit Created thanks to the Fonds d'Investissement de Montréal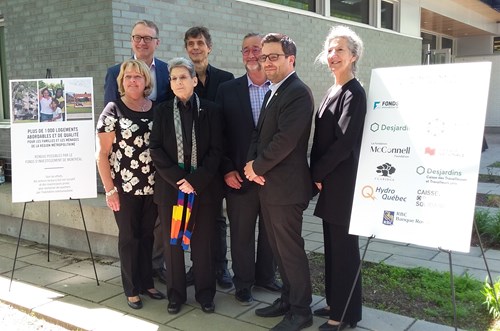 The partners of the Fonds d'Investissement de Montréal (FIM) announced on June 7, 2019 that more than 1,000 community housing units have been created since the FIM was founded in 1997. Spearheaded by Phyllis Lambert, the FIM is a fund capitalized by contributions from investors committed to maintaining the stock of affordable housing in Montréal and supporting social diversity.
The event took place in the presence of: Phyllis Lambert; Robert Beaudry, Head of Economic and Commercial Development, Housing and Design at the City of Montréal; Normand Bélanger, President and CEO of the Fonds immobilier de solidarité FTQ; Jean-Marc Chouinard, President of the Fondation Lucie et André Chagnon, and representatives of SHAPEM and SOCAM.
The Chagnon Foundation is proud to contribute to this initiative as part of its mission-based investments.