29 April 2013
The Gift of Reading - 36,903 children have received the gift of a book
So many kids falling for reading!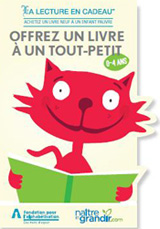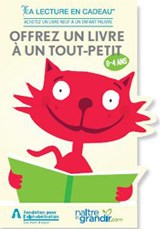 Montréal, April 29, 2013 - The Literacy Foundation is delighted to announce that 36,903 children living in underprivileged neighbourhoods have received a brand new book this year, through its Gift of Reading program. That is 6,100 more books than last year! Imagine all those magical moments to be shared as a family, all those worlds to be discovered through reading.
Actress Marie Turgeon, spokesperson for The Gift of Reading, stressed this year the importance of passing on the reading bug to children from an early age, as this is a significant step in preparing them properly for starting school and in fostering their academic success. For this 14th edition, a partnership with the Lucie and André Chagnon Foundation has raised to 15,000 the number of children aged 0-4 who will benefit from The Gift of Reading!
Hundreds of boxes bursting with books make their way throughout Quebec!
The books were collected in November and December 2012 in 200 bookstores and libraries in Quebec. Since the joy of reading is catching, initiatives from citizens, companies or high schools also led to activities where books were collected and funds raised. This widespread enthusiasm meant that 36,903 books were sent to 483 establishments:
157 schools, including 722 elementary school classes;
125 daycare centres;
167 Famille grassroots organizations; and
34 non-profit organizations (NPOs).
These establishments were all selected using the deprivation indicators established by the Ministry of Education, Recreation and Sports (MELS).