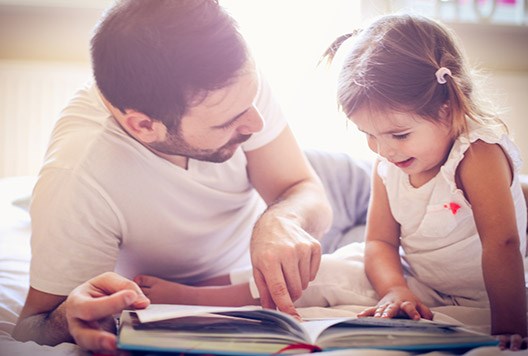 Early initiatives
The Gift of Reading: a project of the Literacy Foundation Supported by the Foundation from 2012 to 2013
The fourth phase of the Naître et grandir campaign (2012-2013) is a demonstration of the Lucie and André Chagnon Foundation's conviction that reading is one of the most significant factors in children's affective, cognitive and language development.
Reading books to the very young helps develop their imagination, shows them what books are for, and introduces new vocabulary and the concept of writing. Most important, however, reading shows children that books can be an endless source of entertainment and pleasure.
By making parents - and society as a whole - more aware of the critical importance of focusing on childhood development from the moment children are born, the Foundation hopes to give each child every opportunity to get a good start in school.
It is for this reason that, in November 2012, the Foundation actively supported the 14th edition of the Literacy Foundation's The Gift of Reading project, whose mission is to ensure that everyone - adults and children alike - has access to reading and writing.
The purpose of this social action is to give children under 12 living in families that have little interest in books a taste for reading by giving them a new book of their very own.
More specifically, the campaign is aimed at:
preventing illiteracy among children in disadvantaged areas and encouraging them to stay in school, and
reaching out to parents who are themselves poor readers to encourage them to obtain the tools and skills they need to support their children and help them succeed.
In its role in this partnership, the Lucie and André Chagnon Foundation wants to focus on the importance of giving books as gifts to children between the ages of 0 and 4.
The results of the 14th edition of The Gift of Reading have been extremely encouraging:
A total of 8,875 books have been collected for 4 to 12 year-olds.
The total collected for children ages 0 to 4 has reached 5,069 books - up 132% from last year.
Since the project objective was to distribute 15,000 children's books to babies, toddlers and preschoolers from 0 to 4 in underprivileged families, the Lucie and André Chagnon Foundation joined forces with the publishers to ensure that goal was achieved.
In 2016, the Chagnon Foundation offered ad hoc support to the Gift of Reading program to improve its efficiency.
"When you see the light in the eyes of a child as he or she keeps opening his or her very own book, and the joy of parents discovering the pleasure to reading to their very young children, you can't help but be convinced that we're on the right track. The fight against illiteracy has to be fought on many fronts. It is through the development of partnerships with like-minded collaborators like the Lucie and André Chagnon Foundation that we will succeed in helping the children of today develop into adults who are better prepared for the demands of the society of tomorrow." (2012) 
Diane Mockle, Chief Executive Officer of the Literacy Foundation