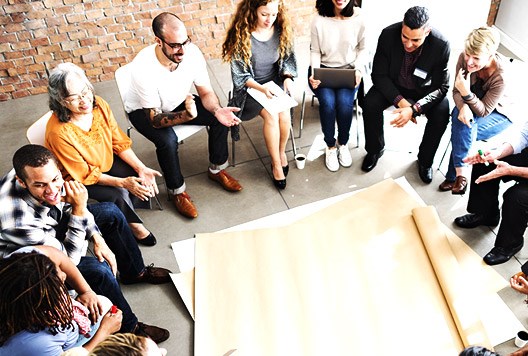 Communities - Completed initiatives
Avenir d'enfants
Supported by the Foundation from 2009 to 2020
Avenir d'enfants provides guidance and support for thousands of partners working in fields relating to early childhood throughout Quebec at the local, regional and provincial levels.
Helping to ensure that all children start school with the tools they need to embark on a successful educational experience
Avenir d'enfants works to support and strengthen intersectoral collaboration in order to implement concerted strategies that contribute to developing the full potential of children aged 5 and under, helping to ensure they are well prepared to embark on a successful educational experience when they start school, paying particular attention to children in disadvantaged families.
Over 3,000 partners across Quebec are making a contribution to this immense collective project in 139 local communities—creating, carrying out and evaluating action plans designed to foster the overall development of very young children and the well-being of their families in their territories. Avenir d'enfants also implements innovative projects with regional and provincial partners, ensuring that all results and lessons learned are shared with its collaborators.
Objectives:
Ensure that early childhood is strategically positioned to be a social priority
Support sustainable intersectoral community mobilization
Reach out to families living in disadvantaged conditions to create a bond of trust
Share and reinvest the collective project's achievements, results and lessons learned.
(in French)
---
A multitude of initiatives supported at the local, regional and provincial level
The following examples are just a small sample of the types of projects that Avenir d'enfants supports. 
Générations Plus
Abitibi-Témiscamingue / GénerAction
This pilot project is aimed at developing an intervention approach for families living in poverty in the MRC of Témiscamingue. Its primary objective is to create a model to try and break the cycle of intergenerational transmission of poverty. 
Portrait de votre enfant - Supporting a successful school transition
Côte-Nord Sept-îles / Ensemble pour un bon départ (working together for a good start)
Portrait de votre enfant (portrait of your child) is a tool that enables parents to share pertinent information on their child's development in preparation for starting preschool.
Meetings with parents
Chaudière-Appalaches / Comité de soutien communautaire à la famille de Bellechasse
Discovery workshops offered to parents and children who make less use of resources offered by their community. The objective of this activity is to create a bond of trust with newcomer families to encourage them to take advantage of other activities or services that are available to them.
---
Ten years of partnership with the government of Quebec
In 2009, the Lucie and André Chagnon Foundation and the Quebec Family Ministry joined forces to create the early childhood development fund. One of the results of this fund was a 10-year collective project called Avenir d'enfants. During this period, the non-profit organization has devoted $400 million to accomplishing activities, projects and initiatives aimed at promoting the development of children 5 years of age and under, focusing particularly on children living in poverty.
To learn more about the initiative
A few key facts
Local partnership groups and regional agencies 139 and 16
Partner organizations Close to 3,000
First Nations communities included in a partnership with the FNQLHSSC 25
Partnership and innovation projects 35